Karam Crete hosts a natural point of sale for the award-winning Rivage products, of which Karam is the exclusive representative in Greece and Cyprus.
Rivage
The combination of ancient beauty secrets and Science of today in the service of modern women.
All beauty care products of Rivage are produced at Dead Sea with unique nutrients that only Dead Sea can provide. The combination of natural minerals with botanicals and vitamins, form the enhanced formula treatments of Rivage. This unique composition of products offers to cosmetology a new chapter of beauty care products. Your skin and hair deserve to be cherished, nourished and replenished. That is why we go to great lengths to source and blend nature's finest active botanicas with potent Dead Sea Minerals.Rivage began in 1996, when inspired by the power and results of the Dead Sea to transform the health of modern woman's skin and hair. Rivage's skincare products are a fusion of the ancient and the modern. The minerals and botanicals that enhance the skincare blends are as old as time, but they are optimized and refined by our laboratories to deliver a remarkable home spa experience
A healing Spa at your service
In parallel, Rivage collaborates with the top experts in the field of aesthetics, dermatology and cosmetology. Rivage utilizes the therapeutical characteristics of minerals of Dead Sea, the most known Spa of ancient times.
As so, Rivage creates therapeutic treatment packages for various skin and hair conditions.
Karam is the exclusive distributor of Rivage in Greece and Cyprus. Rivage products are sold in selected retail stores and Hotel Spa & Resorts Beauty Shops.
#BeYou #BeNatural
Medical Beauty Awards 2020
In 2020, Rivage won 2 categories in Medical Beauty Awards. The one with Rivage Body Mud Mask with Herbals and the other with anti-ageing Rivage Replenishing Anti-Age Cream.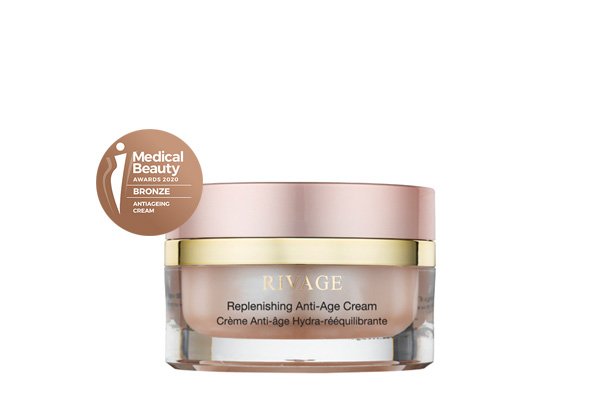 Replenishing Anti-Age Cream
Moisturizes, protects and reduces efficiently thin lines and wrinkles.
Body Mud Mask with Herbals
Cleans, controls excessive oiliness and rejuvenates your skin
Face is the mirror of our soul. This sensitive and delicate part of our body needs special and careful treatment.
In Rivage, we insist in loving natural beauty and the uniqueness of each face!
Our motto is Be you Be natural and we are here to showcase how unique you are and to offer everything that your skin needs.
Your ally against time
Rivage combines Dead Sea minerals with botanicals and precious of the skin vitamins
Revitalizing mud masks
Soft exfoliating and cleansing scrubs
Premium lines for rejuvenation and antiage
Special formulas for neck and eyes.
For clean, healthy skin that enlightens your inner and outer beauty
#BeYou #BeNatural
Rivage combines Dead Sea minerals with botanicals and precious of the skin vitamins Rivage Treatments include the whole body, as the body is the temple of our souls.
Rivage offers a unique experience in body beauty treatments. It is the company that brought to Greece the Home Spa Experience.
Enjoy a full body spa treatment
Astonishing, ultra-rejuvenation body masks with mud
Therapeutic Dead Sea salts
Moisturizing
Oils that move you to the majestic East
Specialized hands and foot treatment products
Whichever Rivage line you choose you will be thrilled with the results
#BeYou #BeNatural
Hair is an important and very special part of your health and beauty.
Rivage loves your hair and takes care of its shine and health.
Find out about the carefully designed formulas for cleansing impurities, removing dandruff and soothing scalp.
Discover the therapeutic treatment packages for various hair issues, like dryness, hair loss, oily hair, eczema, and more. – Intensive Hair Therapy
The aim of Rivage is to showcase your uniqueness. With the Rivage Hair series, we are here for you in order to make sure that your hair will be at its best!
#BeΥou #BeNatural
Rivage utilizes the therapeutic properties of Dead Sea natural ingredients and minerals
Special treatment for skin conditions
Acne
Uneven skin tone
Redness and Irritation
Hydration
Dry or super oily skin
Psoriasis
Eczema
Atopic Skin
Stretch Marks
Local Fat
Cellulite
Muscle and Joint Pain
Stress Relief
#BeYou #BeNatural
Rivage products are certified by international associations about their safety